High-speed inline Microwave Sensors
High-speed Inline Measurement with WORKsens Microwave Sensors
WORK Microwave's inline Microwave Sensors use electromagnetic fields to characterize different material properties. Our high-speed inline measurement WORKsens microwave sensors enable the detection of moisture, residual moisture, mass or density in a wide range of non-conductive materials.
Our sensors are able to use microwave frequencies between 500 MHz and up to 65 GHz. This enables to choose an application- and material-specific optimum frequency range. The inline microwave sensors do have a high-speed measurement capability of up to 10,000 measurements per second. Hence, the sensors are a perfect fit for demanding inline applications.
Many production lines require inline monitoring of water content within products; however, direct contact with the product may lead to defects or irregular quality. Our WORKsens SR, R and T Series offer a contact-free, microwave resonance, microwave reflection or transmission based, moisture sensor approach.
For many applications in the pharma, paper, textile, food, packaging and petrochemical industries, WORK Microwave's sensor solutions have successfully been integrated. However, we are pleased to engineer your individual sensor solution tailored to you application and your need.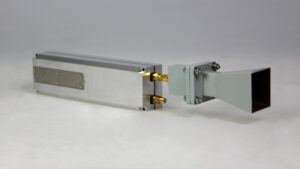 Thicker cardboard and Textile Sheets
Our contact- and intrusion-free, microwave reflection or transmission based moisture characterization sensors for larger measurement gaps over to 1,000 mm. Learn more:
See WORKsens R & T series live:
Dishwasher Tabs
A microwave sensor is used to detect broken or out-of-spec dishwasher tabs.
Learn more:
Your high-speed Inline Measurement application is not listed yet?
With our microwave sensors, basically all types of material can be measured, except from conductive ones.
Please reach out to us with your material and application.
Contact our WORKsens experts!
Meet us live and discuss your high-speed inline measurement application!