The Space Industry's Great Climate Opportunity.
The satellite industry is growing and evolving faster than ever before. The space economy is on its way to reaching $1 trillion in revenue by 2040 according to Citigroup, with the satellite market making up 70%.
For 42 years, SATELLITE has brought the global satellite and space ecosystems together for one week of business, technology, and collaboration that drives the industry forward. Whether you're brand new to the industry or want to expand your knowledge and opportunities, SATELLITE is the place to be.
WORK Microwave will demonstrate its latest ground segment hardware and software at SATELLITE 2023, a key event for the space and satellite industries. Using WORK Microwave's solutions, operators can cross the edges between space and ground, RF and digital, optical and digital, and virtual and hardware on ground stations.
With more than 35 years of experience in satellite ground segment equipment, WORK Microwave's solutions are deployed in real-world missions with LEO and MEO constellations as well as with laser communication down-to-Earth links, including new space, deep space/lunar, governmental, and communication applications.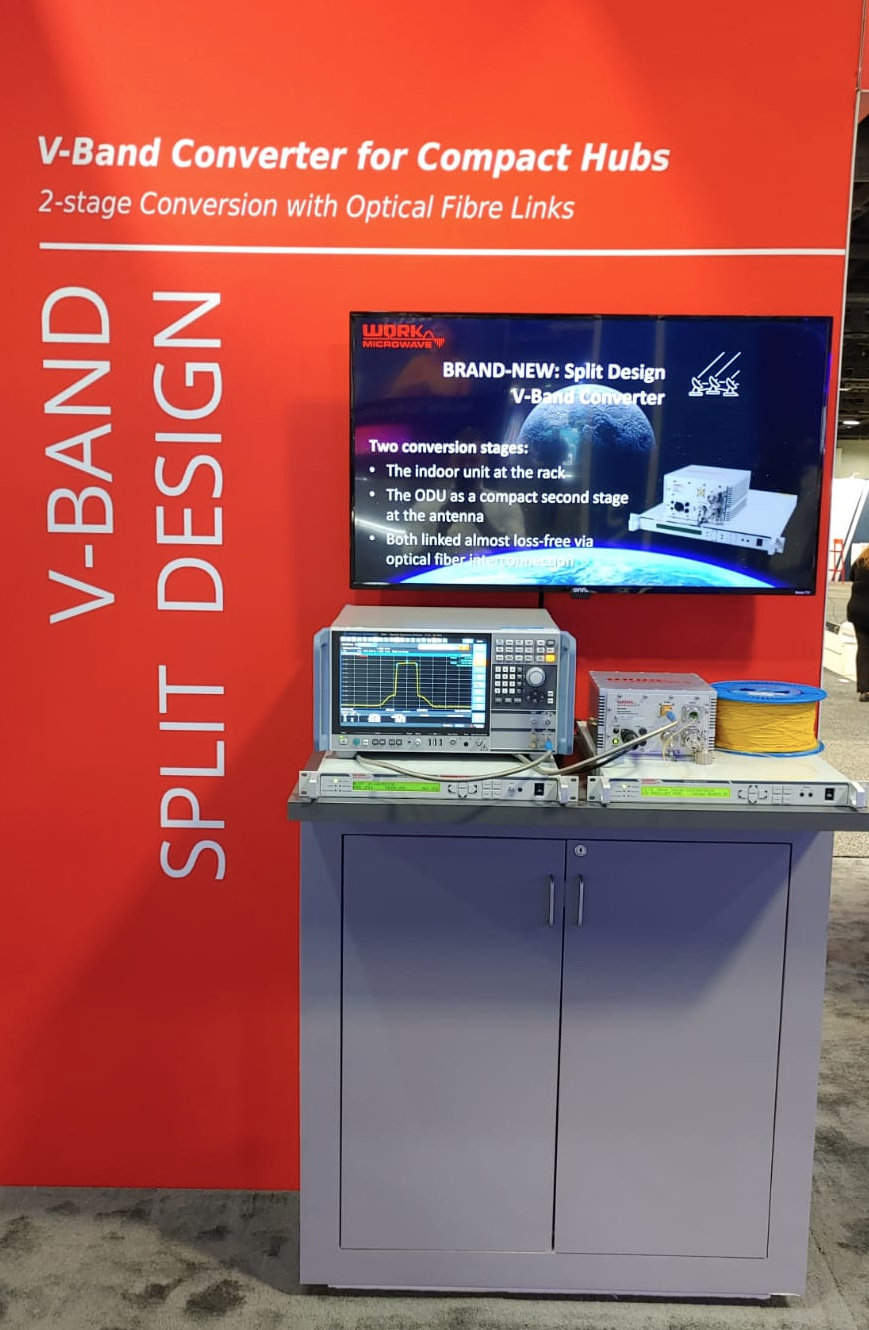 WORK Microwave at Satellite 2023: World-Class Ground Segments and Stations on the Showcase
Q- and V-Band Two-Stage Converters with optical fibre connectivity
The two-stage converter is designed for compact hubs, which often have limited space directly at the antenna and only a compact outdoor unit can be accommodated. For the upconversion path, the first conversion stage is an indoor unit which then passes the signal via optical fiber into the compact second stage (e.g., V-Band converter) — almost loss-free even over longer distances with several hundreds of meters. For the down-conversion, the inverse scheme applies.  At the Satellite show, WORK Microwave will showcase the solution using a 1km optical fiber.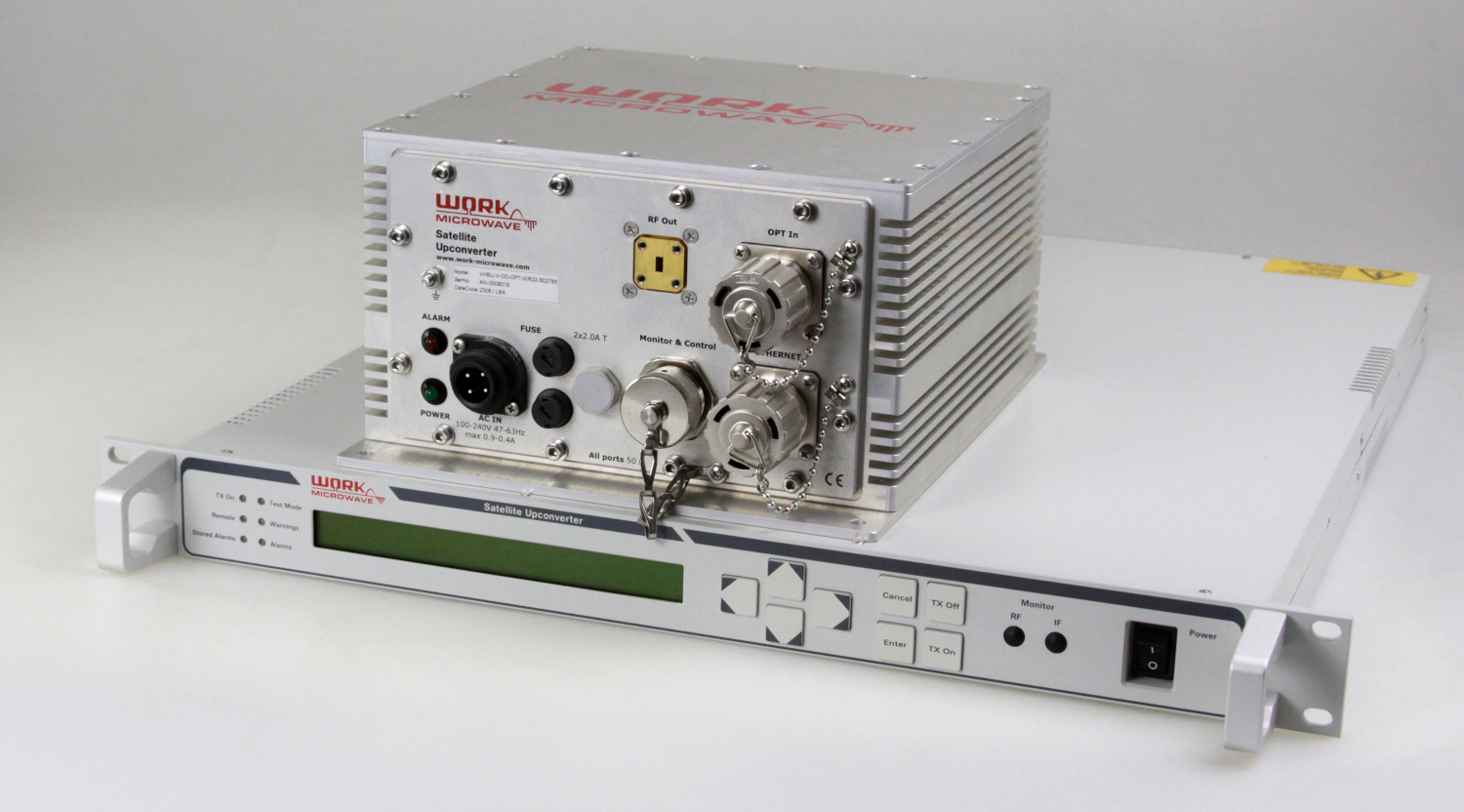 WORK Microwave's two-stage converter is designed for compact hubs with limited space at the antenna.
Optimize Ground Segment Operations with a Virtual Solution
WORK Microwave's Virtual Ground Station (VGS) solution is a state-of-the-art ground station architecture that uses IP networks to improve the flexibility of antenna, processing, and operations composition. Based on digitalized RF signals over IP — in accordance with the DIFI standard — and wideband signal processing on a cloud platform by a virtualized software modem, VGS brings high flexibility, scalability, efficiency, and "switchability" to ground segment operations. By supporting as-a-service business models, including ground-station-as-a-service and software-as-a-service, VGS enables operators to pay per use while reducing hardware investments. Additionally, any digitized antenna worldwide can access VGS for satellite and space communication.
VGS includes:
V-Series software modems for waveform-based processing and connection to DIFI-compliant IP network subscribers.V-Series software can run completely in the cloud or on-premises at physical satellite ground stations based on operators' requirements.
Digitizer/SDR modules with multi-GHz bandwidths are a key element in supporting the migration of ground infrastructures into the digital domain. Satcom-specific designs allow integration into the signal chain with selectable levels of access for operators, integrators, engineers, and programmers.
DBUC/DBDC digital up/downconverter with signal IP connectivity that seamlessly connects to WORK Microwave's V-Series software modem thanks to DIFI standard compliance, requiring less space, investment, hardware maintenance, and cost.
Optical Ground Station Turn-key solution including Modem, Detector and Telescope
At SATELLITE 2023, WORK Microwave will showcase its Digital Optical Ground Station (DOG) suite of products, recently featured in NASA's "State-of-the-Art of Small Spacecraft Technology" report.
The solutions are designed to overcome bandwidth limits and RF spectrum regulatory challenges with free space laser communication using CCSDS and SDA standards. Based on the company's well-established A-Series platform, DOG is perfect for LEO, GEO, and lunar missions. The turn-key solution can receive and transmit data from/to a laser satellite link at very high data-throughput rates and provide IP connectivity to the user.
At SATELLITE 2023, WORK Microwave will demonstrate the following solutions:
Free Space Optical Detector: A fiber-coupled optical detector for the reception of optical free space communication. The detector features a highly responsive InGaAs avalanche photodiode (APD) with fiber coupled input. The amplified and limited output makes it most suitable for receiving hard decision on-off-keying signals. Built in a 19-inch rack-mount housing, the detector includes both a front-panel user interface and network access via SNMP and HTTP interface, assuring easy integration into satellite ground station infrastructures.
DOG-M1 Multi-Mission Optical Modem: The DOG-M1 modem is dedicated to supporting the processing of optical direct-to-Earth links. Designed for multimission support, it enables effective ground station design. Optical On-Off-Keying (O3K) and High-Photon-Efficiency (HPE) transmissions can be processed via a common input that operates based on either hard-decision decoding or the processing of logarithmic-likelihood-ratios (LLR).
Meet WORK Microwave's Team at booth #1409!